Written by: Mike Gebremeskel
Building on the idea of one of my writing influences, a new bi-weekly column on 10 things that I like/dislike in the sports world (for now…more to come).
1. James Harden as a back-to-back NBA MVP lock.
In the month of January, Harden has continued his stat stuffing of the box score with 44.1 PPG, 8.5 RPG, 7.5 APG on 44/34/90 shooting splits raising his season averages to 36.3 PPG, 6.2 RPG, 8.2 APG on 44/37/87 splits. At first glance the 5.5TOPG looks alarming and would lead the league over a season, but considering the immense load he is as the lone source of playmaking and scoring (CP3 just came back Sunday in the win against the Magic) it can be overlooked. Sure watching Harden can be boring at times since the outcome is one of Harden shooting, taking a free throw or someone capitalizing on the open looks he generates, but what he is doing offensively should not be taken for naught. For all the hype over how many free throws Harden takes, he's only attempting roughly two more per game (one trip to the line) more than Joel Embiid in second and a shade under three more per game than Giannis in third:
Considering Harden is attempting roughly four more shots per game than he did in his MVP season last year (nearly three of those attempts come from behind the arc), he has raised his scoring average (30.4 to 36.3), maintained his 3-point accuracy (36.7% to 36.8%) and has only seen a modest decline in FG % (44.9% to 44.0%).
The stats test and eye test agree that James Harden is up a notch from his inevitable MVP season. Whether or not The Beard can keep this scorching run up in the later rounds of the playoffs is TBD, but he can expect another Podoloff trophy after this season.
2. Tom Brady and the Patriots winning SBLIII.
There's something poetic to the Super Bowl LIII matchup. Tom Brady cut his teeth in his first Super Bowl go-round (FIFTEEN YEARS AGO) as a second year player going up against a future Hall of Famer in Kurt Warner of the Rams, due to a season ending injury to Drew Bledsoe. Fast forward to 2019 and now Brady is the grizzled vet going against the postseason newbie Jared Goff of…you guessed it, those very same Rams. The only difference between now and then is that Tom Brady has not lost the killer instinct of legend, if he has lost some physical power. I like the Patriots to win the SBLIII relying on defense, involving the RBs in the passing game, and all the goodies Belichick likes to pull out.
3. The Los Angeles Lakers chance of making the playoffs in the Western Conference.
The Lakers have struggled since LeBron was injured in the Christmas Day blowout of the Warriors, but encouraging signs from the various young players suggests that when The King returns they will return to form. With the NBA's 9th ranked defense (that number climbs to 6th if you factor out the first 10 games of the season) a high uptempo offense, and LeBron's leadership it is easy to see the path back to the playoffs for the Lakers. That is not to say that it won't be difficult or they will make the Finals (note: the Warriors have not 1…not 2…not 3….but 5 All-Stars), but betting against a LeBron-led team to make the playoffs is generally stupid.
4. Blake Griffins resurgence with the Detroit Pistons.
Blake Griffin has quietly had a rebirth in Detroit following the trade from the Clippers after the infamous jersey retirement free agency pitch. He has remodeled his game around the perimeter to build synergy with frontcourt mate Andre Drummond to great effect. Playing more like a point forward, Griffin has averaged 26.5 PPG, 8.1 RPG, and 5.2 APG (career high) while maintaining respectable splits of 48/36.5/76. Funnily enough, Blake is 33.5% from three and 69% from the free throw line for his career, proof that he has taken his talents more to the perimeter after so many injuries. While most counted Griffin out, he has been reborn and lived up to the massive contract that the Clippers so desperately wanted to dump. Maybe if the Pistons can get a decent roster around him, they can make some noise (don't count on it).
5. Luka Doncic as a Western Conference All-Star.
I'll keep this one sweet and to the point. After watching the Mavericks live against the Raptors this past Sunday, it's obvious Luka is not the average rookie. Becoming the first TEENAGER to put up multiple triple doubles (he had a 30 point triple double against the Raptors) is nothing to sneeze at. With obvious NBA feel coming into the season and a deadly stepback, Luka has blown past the expectation that most had. At 20.9 PPG, 7 RPG, and 5.4 APG on 43.5/35.5/73 splits, his numbers should not be judged against fellow rookies but against the established All-Stars of the league.
6. DeAndre Jordan's empty stat-line this season.
DeAndre Jordan was an All-Star in 2015 in the peak Lob City Clipper days, but is now a shell of himself. Once capable of anchoring a defense through size, long wingspan, and agility, Jordan has simply become an empty calorie stat line. Considering he signed a 1-year $23 million deal, it makes sense that he wants to boost his stat line in hopes of a longer deal when he hits free agency on July 1st. His defensive rating per 100 possessions has actually increased in the past two years (102 to 105), which doesn't suggest a complete relapse in his best areas but is definitely ringing that bell. Defenders can no longer play the Hack-a-DeAndre game after his improvements at the line (68.2% from the line, up from 58%). Offensively, he is scoring less per 36 minutes which is looking to be the trend going forward. On the surface 11.1 PPG and 13.8 RPG are in line with his career numbers, but context within the league's evolution toward more threes carries weight. While Jordan can protect the rim (opponents shoot 48% around the rim with him defending), his mobility outside the restricted area is increasingly limited.
7. Roger Goodell's decision to stay silent on NFC Championship controversy.
Goodell's generally an unpopular commissioner compared to his contemporaries in the other major sports. His "I call the shots" style does not endear owners (see: one Jerry Jones), nor the fans who hail the shield. Choosing to not speak after the controversial no-call after the Rams-Saints game was just another reason why he will continue to be.
8. Arsenal's decision to let Aaron Ramsey go on a free to Juventus.
As a devout Arsenal fan, this one just plain hurts. Aaron Ramsey has proven to be the perfect midfielder for manager Unai Emery's uptempo pressing tactics compared to the midfielder Arsenal chose to extend instead, Mesut Ozil. Not to mention that Ramsey has grown with Arsenal since coming from Cardiff City as a youngster. Arsenal has a history of letting great players go on Bosman transfers (players who are 6-months from free agency and over 23 are free to negotiate terms with clubs outside of their league) and until they learn to extend or sell players before they reach their final 6 months, they won't lift that coveted Premier League trophy.
9. Dennis Smith Jr.'s fit with Luka Doncic for the future.
I don't think the Mavericks should trade DSJ just yet, but they should monitor this fit going forward while they still have leverage. DSJ has all the tools to become a great player, but whether he will get there is the question. He has markedly improved his off-ball shooting (36% from three this year), which helps answer some of the questions on his fit with Luka. This is no one's fault as the Mavs weren't supposed to be in the running for Luka, or did they expect him to come on as strongly as he did. It will take time for the two to build that chemistry but if the below is any indication, the future for the Mavs (2011 will always be my favorite year) is bright:
10. Real Madrid manager Solari's decision to not give playing time to fan favorite Isco.
This one is simply baffling considering the season that Real Madrid is having. With no replacement filling the void that Cristiano Ronaldo left behind on his way to Juventus and entrenched stars like Gareth Bale and Marcelo struggling, it would only make sense for Isco to be given a shot to turn things around.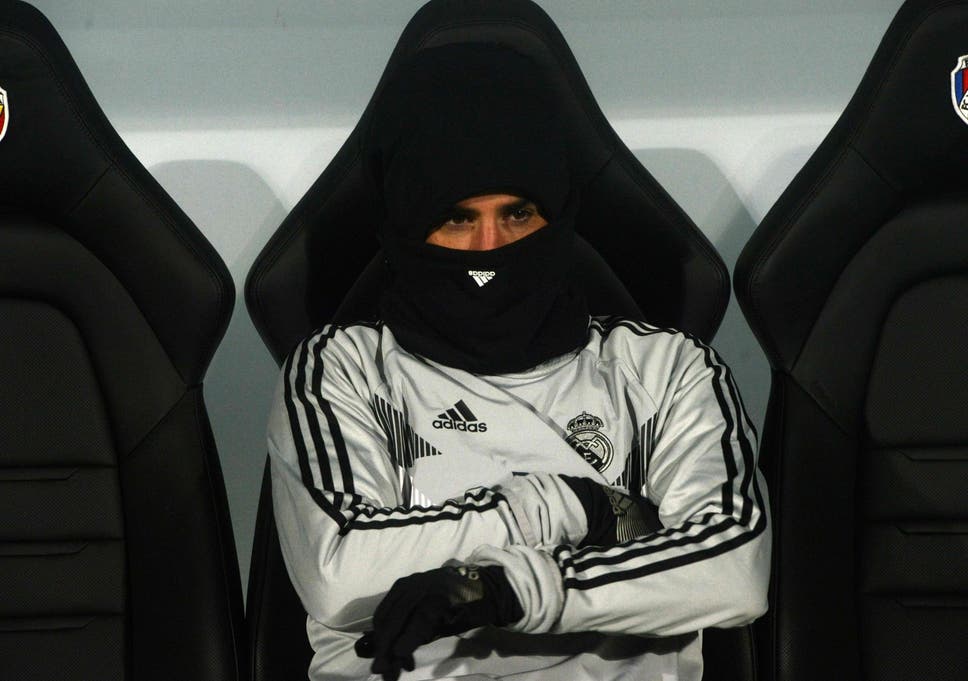 As the golden boy of the Spanish National Team, his status is in doubt due to this lack of minutes. When options like Lucas Vasquez, Brahim Diaz (fresh from the Manchester City U-23s) and other youngsters are trusted ahead of him, it is easy to understand his frustration.
Stats unless otherwise stated were taken from Basketball Reference
Images sourced Google Images
Follow me at @mikegebremeskel on twitter/instagram for more posts.